Regular price
$245.00
Sale price
$240.00
Unit price
per
Sale
Sold out
View full details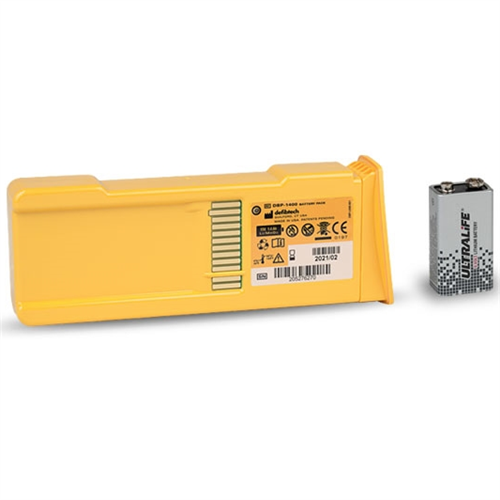 Product Details
Defibtech Lifeline High Capacity Battery DCF-210 includes the primary battery DBP-2800 and the lithium 9-volt battery DAC-410. The primary battery DBP-2800 powers the AEDs primary functions including analyzing and defibrillation during a rescue and the 9-volt battery powers the AEDs self-testing features. Together both of these Defibtech AED batteries make up the Defibtech Battery Pack DCF-210.
The primary Defibtech Battery has a stand-by life of 7 years installed and can deliver up to 300 shocks or 1600 hours of continuous monitoring and or rescue operations. The 5-year Defibtech AED battery is also available and can be found here, DCF-200. Either battery includes a 4-year guarantee from date of purchase.
What is the expiration date for my Defibtech AED Battery? That is an important question. An expiration date is printed on every Defibtech AED Battery and can be found on the manufacturers label affixed to each battery. Please be aware that although the primary battery DBP-2800 is rated for 7 years the 9-volt lithium battery will need to be replaced once every 6-12 months. If the 9-volt battery is depleted the AED can still be used and will still deliver a shock as long as the primary battery is still good at that time.
If either of the DCF-210 batteries needs to be replaced the AED will chirp and the status indicator will flash red rather than green. To determine which battery is causing the alert simply press the power button down for 2 seconds and release. The AED will then verbally report whether it is the 9-volt which needs to be replaced or the complete DCF-210 battery by stating either "replace 9-volt" or "replace battery".